A Guide To Merida, Mexico: 10 Reasons To Visit Now
This year, the Mexican city of Merida was named the American Capital of Culture for a second time, highlighting the Yucatán capital's abundant riches. For travelers looking to explore beyond Mexico's world-class beaches this winter, here are 10 reasons to put the "White City" on your bucket list.
Central Location
With nonstop international flights from Miami, Houston, and Atlanta starting Dec. 1, 2017, and 50-minute domestic flights (or a three-hour drive) from Quintana Roo's famed five-star resorts, Merida's proximity and cultural wealth make it an ideal destination to tack onto a beach vacation. Centrally located within the Yucatán Peninsula near the Gulf of Mexico, Merida serves as a convenient base for day trips to the region's UNESCO-listed archaeological sites, nature reserves with diverse wildlife, and treasured villages designated Pueblos Mágicos (magic towns) like Valladolid and Izamal.
Unique Heritage
Merida's culture is a distinctive blend of traditions inherited from the ancient Maya civilization dating back to 2600 B.C. and customs brought by Spanish conquistadors, who began colonizing the territory in the 16th century. The city of Merida itself was founded by Francisco de Montejo y León in 1542 on top of an ancient Maya city called T'ho, whose stonework was repurposed by the Spaniards as foundations to erect lofty Catholic churches and colonial mansions. After 500 years of coexistence, a comingling of rituals and beliefs created a vibrant cultural identity that continues to shape this dynamic city.
Archaeological Sites
Travelers from near and far come to experience the Yucatán's well-preserved Maya archaeological sites. Seventy-five miles east of Merida lies Chichén Itzá, one of Mexico's most impressive and visited ruins due to its designation as a new wonder of the world. The pre-Columbian city was one of the largest and most diverse and features a mix of architectural styles. It's also popular for equinoxes, when the Castillo (castle) temple forms a shadow evoking the appearance of a serpent slithering down the pyramid's steps. Uxmal, another UNESCO-listed Maya ruin located an hour and fifteen minutes south of Merida, is celebrated for its precise construction and ornate stone carvings. The towering Pyramid of the Magician is in remarkably good condition, as are the surrounding structures, which can be enjoyed with much less crowds than Chichén Itzá.
Gastronomy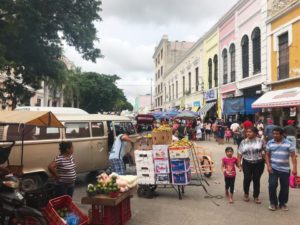 One of Mérida's biggest draws is its gastronomy. Local markets, like the bustling Mercado Lucas De Galvéz and Mercado Santiago, are bursting with exotic fruits and vegetables. Wander the markets alone or with a guide to taste local produce like spicy habanero peppers; chaya, a local green similar to spinach; rambutan, a red shell fruit with sweet white pulp often sold as "agua fresca" juice; Seville oranges, a staple in Yucatecan cooking for its acidity; and huaya, a lime exclusive to the Yucatán region that's typically eaten with a sprinkling of chili powder.
If you want to try your hand in the kitchen, a number of local chefs offer cooking classes, or you can head to the city's fine dining temples—Nectar, Apoala and K'u'uk—for innovative Mayan-meets-modern fare. There's also Mercado 60, a food hall with 18 restaurants, and the newly-opened Casa Dominga, for a more laid-back gourmet adventure. Don't leave the city without trying pre-Columbian specialties like cochinita pibil (pork marinated in achiote (annatto)), turkey salbutes and traditional papadzules (similar to enchiladas).
Architecture

Merida's colorful Spanish colonial architecture in the Yucatan Peninsula, Mexico.NORA WALSH
Like most colonial cities, Merida features broad central plazas and beautiful cathedrals. Narrow streets are safe and squeaky clean with picturesque periwinkle, sherbet pink, mint green, and vibrant peach facades. The main zócalo is a spacious square trimmed with well-preserved 16th century mansions built for the family of founder Francisco de Montejo, as well as San Ildefonso Cathedral, one of the oldest churches in Latin America. Further north lies the leafy Plaza Santa Lucia, a neighborly hub where locals come to socialize and dance, and Pasejo Montejo, a wide tree-lined avenue inspired by the Champs-Élysées and dotted with palatial Beaux Arts homes. On Sundays, city plazas come to life with locals enjoying cultural events, folkloric dancing and tented markets.
A raft of museums provide a window into Merida's storied past and spotlight the rich artistic epicenter it is today. The Gran Museo del Mundo Maya de Merida is a must-visit. Full of interesting artifacts and information, the museum puts the Yucatán's ancient history and more recent colonization into context as you explore the region. The Museum of Anthropology and History, housed in an stunning mansion on Paseo Montejo, showcases photography and Maya relics, while the Popular Art Museum features objects and art from around Mexico including typical dress and ceramics.
The Governor's Palace on Plaza Grande features murals by artist Fernando Castro Pacheco depicting the brutality of the Spanish conquest and struggle of the Maya peoples, while the nearby Contemporary Art Museum (MACAY) is home to abstract works by local artist Fernando Garcia Ponce and a rotating collection of modern paintings and sculptures. For more of-the-moment art, check out Coqui Coqui hotel's adjacent gallery dedicated to exhibitions from emerging artists.
Boutique Luxury
While Rosas & Xocolate is not the only charming boutique hotel in town, it is certainly one of the best. Housed in two cheerfully pink colonial mansions on Paseo Montejo, the 17-room design-focused hotel is bursting with vivid color and Mexican-cool style. The inner courtyard houses a palm-fringed pool and complimentary bikes for guests, while a leafy open-air patio connects to the restaurant's handsome dining room where the chef serves riffs on classic Yucatecan dishes and fusion cuisine, earning it the esteemed accolade of best hotel restaurant in the country. Nibbles of gourmet chocolate come with turndown, but for a truly delicious experience head to the spa for an indulgent three-hour treatment that incorporates a rose petal bath, a cocoa scrub, a fondue wrap made from cacao butter, honey and rose oil, and finally, a relaxing chocolate-scented massage.
Historic Haciendas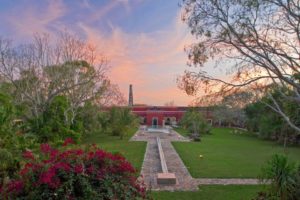 As a reward for their services during the conquest, triumphant Spaniards were given estancias to breed livestock and in-demand crops like tobacco, sugar and cotton. From the late 1800s to the 1920s the Yucatán experienced a boom of prosperity as the leading producer of henequén (sisal) used to make ropes, amassing a level of wealth that transformed modest manors into extravagant haciendas outfitted with industrial machinery. The Luxury Collection operates five carefully-restored authentic haciendas throughout the Yucatán including Hacienda Temozon (located 45-minutes outside Merida), which was once the principal sisal producer in the peninsula. Today, the 17th century grand-dame features over 90 acres of landscaped gardens, plantation-style guest rooms with soaring ceilings, a postcard-worthy pool and a petite spa. Make sure to take a ride on a donkey-pulled trolley (formerly used for sisal transport) to visit the property's cenote swimming hole.
Cenote Swimming Holes
When a deadly asteroid slammed into the sea floor off the coast of the Yucatán Peninsula 66 million years ago wiping out the dinosaurs, it also created more than 6,000 fresh water sinkholes and caves called cenotes. For centuries, the crystal-clear groundwater pools were used as sacred wells by the Maya where they performed offerings and spiritual rituals to communicate with the gods. Local shamans still perform these rituals today, and guests of Hacienda Temozon can experience a traditional Maya purification ritual in the underground Sacamucuy cenote. A beautiful offering of colorful flowers, medicinal plants, cocoa beans and candles are carried to the gods via fragrant copal (tree resin) incense, while the shaman performs a wellness ceremony to fill one's soul with powerful positive energy. The glossy new Chablé Resort and Spa also offers shaman-led healing journeys at its on-property cenote. Wear your bathing suit to take a dip in the cleansing waters after your ritual.
Five-star Service
Mexico is known for its warm hospitality and faultless service, and the locals in Merida are as friendly and helpful as they come. To scratch beneath the surface of the colonial capital or explore beyond the city's borders, enlist luxury travel outfitter Journey Mexico to arrange transportation, day trips and guided visits to archaeological sites. They're on hand to book charter and helicopter flights, secure private access to Maya ruins pre- and post-closing, organize curator-led visits to museums, reserve chef's table experiences, and take guests into the community for market visits, religious celebrations and festivals. Booking at least three months in advance is recommended.
Written by: Nora Walsh
Forbes Magazine November 16, 2017